Hi-Q Comes Through in Tough Environment

Download PDF
Ever since Hi-Q Fasteners began they have been a trusted source. There has never been a more important time than now. As Ken Rosenblatt put it in a recent interview, "In this difficult business environment, it is critical to our customers that we support them. It is important that we maintain our flexibility, offer competitive pricing and have the inventory available for the inevitable rush on certain parts as the strength in the economy returns. It is important that we continually exceed our customers' expectations."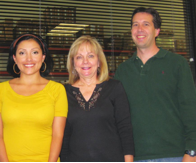 When Ken Rosenblatt and Ralph Schack (since retired) started Hi-Q Fasteners in 1997, they decided to start off on the right foot. Before he came to the fastener industry, Ken, who is a CPA, worked for a major consulting company as a computer consultant. He knew that in order to run a successful business, he would need a proper technology infrastructure just as much as a proper building and the right vendors. And so, Hi-Q wrote their very first check to Computer Insights, Inc. to purchase The Business Edge helping them deliver the world class service that their customers expect.
Ken said, "Since our inception in 1997, we have grown to be a reliable and consistent source for many distributors. We import and stock many products and offer mill shipments with releases. In good times and bad, we have consistently maintained profitability and never had any layoffs. Our employees are well trained and highly experienced (our employees' average over 19 years industry experience). Our customers repeatedly comment on our excellent service, reliability and employee product knowledge. We most always have "it" in stock. All our products are lot controlled and traceable. Thanks to The Business Edge, not only do we maintain complete lot control, but we also have instant access to information about stock availability, pricing and our customers' previous purchases right at our fingertips. When our customers call us, one call truly does it all."
Many companies pay lip service to "Customer Service", but when it comes right down to it, they don't deliver. You might say that "after all is said and done, not that much that's said gets done".
Not so at Hi-Q Fasteners. Ken pointed out, "We pride ourselves on listening to our customers' needs rather than fitting our customers into a "corporate strategy." For example, we have worked with our customer to push out lead times on hold for release orders as our customers usages have slowed and maintain our firm policy to sell distributors only."
Ken stated, "The quality of product is of utmost importance to us. And while everything we buy is from overseas, we concentrate our purchases with the factories that we know, trust and can rely on. We don't send our quotes around the world to get the absolute lowest cost, but instead give more business to fewer factories. In return, we get the right the pricing, but with the reliability and quality demanded of our customers."
Ken went on to say, "We understand that this is a relationship business and we have proven to be loyal to our vendors, customers and employees. In turn, they have been loyal to us. One example of this has been our choice of a computer software vendor. We chose Computer Insights, Inc. and The Business Edge at the outset for our in house system. As a result of this relationship; we have been able to profitably grow our business without ever having to go through the pain, confusion and expense of having to change to a different system. We carefully studied the available systems at the time of purchase and we carefully checked on the people that we would be doing business with. We were satisfied that we could establish a long term relationship with them. It turns out that we were right. That decision has saved us many thousands of dollars and helped us live up to our potential."
Despite the difficult economic times, Ken finally has good news. He said, "We have increased our product lines, from only sems and thread forming screws, to include spacers, standoffs, self clinching screws, machine screws and nuts. We continue to listen to our customers and we are partnering with them to help them be more successful. Our customers tend to check us for many things outside our basic lines because we continue to carry more parts our customers tell us they sell. This gives an eclectic inventory and one where many customers say – I can't believe you carry that item! As a result our customers know that whether the economy is up or down, we are here to serve them."
This article appeared in Distributor's Link Magazine
For More Information
Ken Rosenblatt
Hi-Q Fasteners
1206 W. Jon Street
Torrance, CA 90512
phone: (562) 401-9300
fax: (310) 538-5099
www.hi-qfasteners.com
Dennis R. Cowhey
Computer Insights, Inc.
108 South Third Street
Bloomingdale, IL 60108-2912
Phone: 800-539-1233
Fax: 630-893-4020
dcowhey@ci-inc.com
www.ci-inc.com