State of the Art VMI Helps Put Arnold Supply on the Map

Download PDF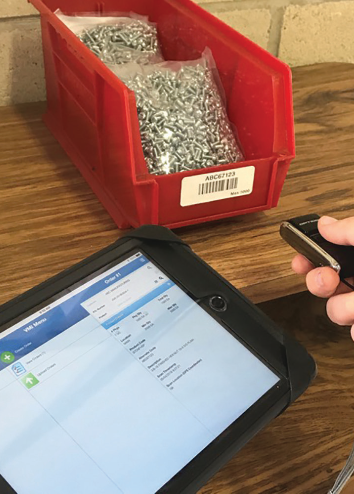 Arnold Supply is a one stop shop for supply chain management. They will take inventory, stock bins and replenish hardware and fasteners as customers need them. They also centralize inventory processing with purchasing departments, engineering staff and floor personnel to reduce costs and guarantee delivery.
How It Works
Arnold Supply's state-of-the-art VMI program utilizes the most up-to-date technology to take inventory their customers' hardware and fasteners.
When they begin a VMI program, they usually ask for a forecast report or annual usages so that they can accurately price out the necessary quantities.
Based on that information, they provide pricing and a suggested minimum and maximum bin quantity to go with each part.
Then they create custom bar codes. The labels can be as simple as the one above or they can contain as much information as the customer desires.
A qualified Arnold Supply Salesman will arrive at the customer's facility with an iPad, a wireless scanner and the customized bar codes to place on each bin.
Long Record of Exceptional Service
During a recent interview, Bill Donahue, Sr., President, said, "Arnold Supply Inc. started in March 1976 on a wing and prayer. In 1978, we moved to a 2,000 square foot warehouse in Wallingford, CT. We now own the 35,000 square foot building and stock it to capacity. We have also expanded and now we have locations in Winston-Salem, North Carolina and Nogales, Arizona."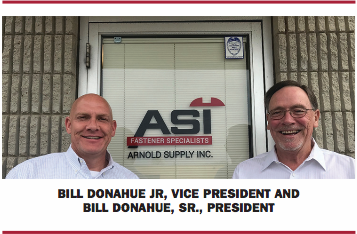 Family Owned
Like so many fastener companies, Arnold Supply Inc. is a family owned and operated fastener distributor. The President is Bill Donahue, Sr. and the Vice Presiden is Bill Donahue, Jr. They now have three generations actively working at Arnold Supply. The depth of experience gained by everyone growing up in the fastener business is a huge advantage that they have.
Substantial Operation
Arnold Supply is ISO 9001:2015 certified, they have over 15,000 Inventory SKUs, 35 employees a full-service kitting department and in-house Quality Control. They work several industries including:
Information Technology
Electronics
Automotive
Fabrication
Medical Industry
Variety of Customers
Their customers range in size from small manufacturers to multi-location manufacturers. No matter the size or industry, Arnold Supply guarantees the quality of their work and on-time delivery. The size of their business allows them to share volume discounts with even the smallest of their customer accounts. They've integrated state-of-the-art technology to enhance inventory tracking and product delivery. Their customers consistently choose Arnold Supply Inc. for exceptional customer service, quality and pricing. More than 75% of their customers have been with them for over 25 years.
Significant Growth
They have enjoyed consistent growth. Bill Jr., Vice President, said "A Major factor enabling and supporting our growth is the fact that we realized and took advantage of the evolution of technology in the fastener industry. What was a once a manual cardex system has transformed into present day use of The Business Edge™ by Computer Insights, With The Business Edge™, we have been able to setup a Vendor Managed Inventory program on an international level."
The Business Edge™
Bill went on to say, "Computer Insights helped us create custom bar codes for our customers and they made it easy to integrate mobile technology to use at our customer's facility. The Business Edge™ gives us and our customer's real time information about inventory, accounting, usage, tracking and traceability. Over the years of being associated with Computer Insights, many questions have arisen as our needs have changed. We have yet to have a situation where Computer Insights has not been able to help us, 100% of the time. They have the same philosophy that we do, deep knowledge and intense commitment to customer service. What could be better?"
This article appeared in Distributor's Link Magazine, Summer 2018
For More Information
Dennis R. Cowhey
Computer Insights, Inc.
108 South Third Street
Bloomingdale, IL 60108-2912
Phone: 800-539-1233
Fax: 630-893-4020
dcowhey@ci-inc.com
www.ci-inc.com