Rapid Rivet Says "You Need 'Em, We've Got 'Em"

Download PDF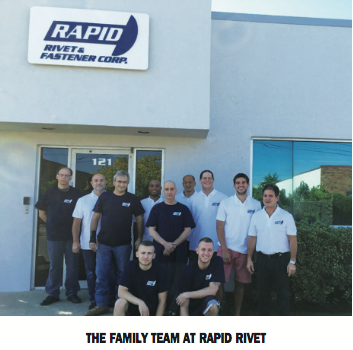 Long Reputation For Quality
Rapid Rivet utilizes its well established supply chain relationships, its highly knowledgeable sales force, its diverse inventory and its efficient warehouse processes to provide commercial, military, medical and aerospace companies with a wide range of quality-ensured precision- grade fasteners in a timely manner. Rapid Rivet & Fastener Corp. has a large inventory of rivets in stock and ready to ship out immediately. Rapid Rivet & Fastener Corp. provides comprehensive product dimensional tolerances, plating, materials testing and a certification that guarantees compliance with mil-spec or OEM specifications.
Rapid Rivet was established in 1985 to serve a growing need for lot controlled, domestically manufactured rivets to multi-line hardware distributors in the United States.
Since then, Rapid Rivet has become a full service, factory authorized supplier to fastener distributors and Original Equipment Manufacturers (OEM) in the United States and abroad. For all rivet types used in a variety of applications which include military, aerospace and commercial industries, Rapid Rivet & Fastener Corp. has over 100,000 different rivets in stock and ready to ship out to clients.
Aerospace And Commercial
Rapid Rivet & Fastener Corp. provides comprehensive product dimensional tolerances, plating, materials testing and a certification that guarantees compliance with mil-spec or OEM specifications.
They carry a wide variety of rivets:
Solid Rivets
Semi-Tubular Rivets
Aerospace Blind Rivets
Commercial Blind Rivets
Rivet Nuts
Threaded Inserts
Speed Fasteners
Drive Rivets
Tools and Accessories
Quality
Rapid Rivet & Fastener Corp. operates a Quality System in accordance with the ISO 9001:2000 and the AS9100-C Rev B standard "Quality Systems-Model for Quality Assurance in accordance with aerospace requirements for Distribution and Servicing".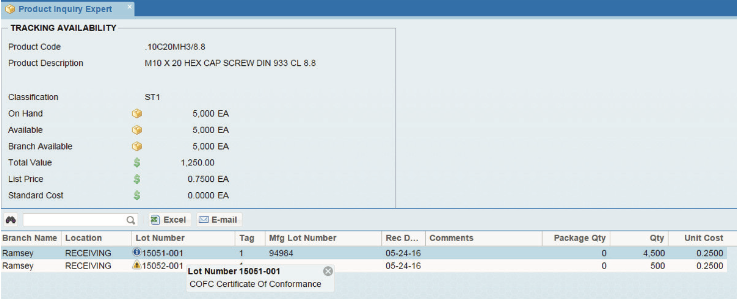 Rapid Rivet & Fastener Corp. recognizes its responsibility as a master distributor of fasteners and rivets to government, aerospace and commercial industries. Our quality management system aims to enhance customer satisfaction through the effective application of our system which includes processes for continued improvement of the system and its assurance of conformity to customer and applicable regulatory requirements.
Rapid Rivet has been reviewed by its major aerospace customers and has gained approval by meeting or exceeding the requirements of all such Quality System inspections. Chemical and Physical test reports are available on all inventory items with full traceability to the manufacturer of record.
The Business Edge™
In 2012 Rapid Rivet made a significant system upgrade in order to continue their growth while improving their service to their customers. They installed The Business Edge™ from Computer Insights, Inc. This system has enabled them to automate many of the key processes involved in delivering their highly technical products quickly, accurately and with all the proper documentation for each customer.
Streamlined Operations
The Business Edge™ enabled them to create efficient workflows that ensured the right product was received, inspected and certified to the specifications required.
Once the product is inspected the results are entered into The Business Edge™ and the certifications are automatically attached to the lot that was just received. The system enforces that the documents get attached based on requirements that are established by the purchaser when it is ordered.
Complete Visibility
When a customer calls Rapid Rivet, the person fielding the call has everything at their fingertips. They can tell the quantity on hand, available, going out and coming in for each part. They can also tell what specification the product is certified to by lot.
Each customer master file includes the specific certifications or test reports required for each part that they buy. Once these are established, the system enforces that no relevant product goes out without the certifications being attached. There is no manual intervention required; it is completely automatic.
Great Service
Al Felice, President, said in a recent interview, "We have a long established reputation for our knowledgeable people and over the top service. This philosophy has been supported and improved with the implementation of The Business Edge™" He said, "We have cut down dramatically the amount of paper in our business and respond to our customers more quickly than ever. See what our customers have to say by visiting our website!
ILS Mart
Computer Insights is committed to the aerospace industry and they have shown it once again with their recent announcement of the ability to get to www.ilsmart.com, a popular Aerospace parts sourcing site. If they don't have it, they can find it and now we can find it more quickly than ever.
Building For The Future
Al summed it up by saying, "As a family business, we are in this for the long haul. We have continuously improved our processes and we have built a reputation for excellence. We continue to invest in technology that will provide the platform for us to grow and prosper along with our customers."
This article appeared in Distributor's Link Magazine, Summer 2016
For More Information
Dennis R. Cowhey
Computer Insights, Inc.
108 South Third Street
Bloomingdale, IL 60108-2912
Phone: 800-539-1233
Fax: 630-893-4020
dcowhey@ci-inc.com
www.ci-inc.com