Jenson Fasteners Goes Global In Just 6 Years

Download PDF
Jenson Fasteners, Inc. stands out as a unique nitch in fastener distribution, servicing clientele both within the USA as well as globally. They specialize in a wide variety of items from basic screws, nuts, bolts and washers to electronics components and everything in between. From their locations in Los Angeles and Tijuana, Mexico, they have a niche in the market very few distributors have.
Their clientele is as wide as the countries that they service. Their customers range from distributors like themselves, to high tech companies in the aerospace and electronic industry. Jenson offers them all a friendly voice, huge selection of stock items and extremely competitive pricing.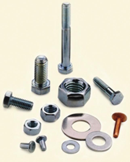 Started in January 2002
Jenson Fasteners was started by the father and son team, Ed and Jeff Segall in January of 2002. They decided that if they were going to achieve their growth and profitability goals, they would have to start with a sound foundation. They researched the market for computer software and purchased and installed The Business Edge from Computer Insights, Inc. in March of 2002.
During a recent interview, Jeff Segall, Vice President, said, "In this day in age, Jenson Fasteners, Inc. relies on computer programs more than ever to keep our business running smoothly and efficiently. Since obtaining The Business Edge system in 2002, we have been very pleased at what this system has done for our company, both in an organizational sense and with making each and every employee's job that much easier."
He elaborated, "As we continue to grow and prosper, so does The Business Edge system. We are continually expanding the system to meet the ever changing demands of both the Fastener Industry and the stringent requirements of Jenson Fastener's itself.
"The Business Edge system enables us to attend to our customers' requirements quickly. This quick turn around, both with quotes and orders helps insure our position as their primary choice for vendors. Internally, our bookkeeping runs like clockwork and our extensive inventory is completely accurate." If The Business Edge says we have it, we absolutely do have it. We can make promises without ever thinking about physically checking stock. Also, running reports has never been as quick compared to any system that I have ever used in the past. Jenson Fasteners prides itself on catering to the needs of our clientele and with The Business Edge System; it takes client service to a whole new level."
Experience Makes The Difference
Jenson's capabilities are endless. Combined, their employees have well over 150 years of fastener experience, which they feel offers a great advantage over the competition both in knowledge and experience. It also offers their customers the peace of mind in knowing that they are getting accurate information and the correct products the first time around.
Jeff commented on how their system fits into their commitment to world class service. He said, "The Business Edge, allows us to service our customers on a whole new level, forming new business relationships and expanding current ones, with just the touch of a button and a click of the mouse."
Vendor Managed Inventory, Kitting — They Have It All
Jenson Fasteners offers a wide variety of services to their clientele. The services that they offer include Kan Ban, bin replenishment services and kitting. They stock over 100,000 items in their warehouse and they have the capabilities of sourcing even the hardest to find items for their customers. Their warehouse and offices are under one roof, assuring better control over incoming and outgoing products. Jenson offers Same Day Shipping and many of their items are available in stock.
Jeff Segall said, "Quality control is of the utmost importance. All of our items are traceable to their source. The traceability is assured by The Business Edge. We also have ISO-9002 systems in place. We are currently planning for ISO certification in the near future."
This article appeared in Distributor's Link Magazine, Summer 2008
For More Information
Dennis R. Cowhey
Computer Insights, Inc.
108 South Third Street
Bloomingdale, IL 60108-2912
Phone: 800-539-1233
Fax: 630-893-4020
dcowhey@ci-inc.com
www.ci-inc.com