Fastener Warehouse Expands

Download PDF
Fastener Warehouse, Ltd. recently expanded their main facility. The 25,000 square foot addition brings their total warehouse to 60,000 square feet in Saskatoon, Saskatchewan, Canada. In addition to their main warehouse, they also have a branch in Manitoba and a sales office in British Columbia. The company employs a total of 35 people.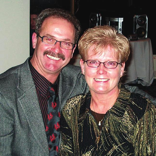 Dynamic Growth
Fastener Warehouse, Ltd. opened in March 1994 with owners Bob and Kim Weimer as the company's only staff. The original warehouse space was a mere 1800 square feet, of which half was rented out to someone for storage.
It wasn't long before they had to move to a leased 5,000 square foot facility. By the year 2000 they decided to build their own 10,000 square foot facility, and quickly grew from a small distributor to a major importer.
Within two years of the move to the new building, they began the first of a series of expansions to their facilities. Bob Weimer, CEO and General Manager, said, "It was after the first addition went on the new building that we realized how great the need was for an inventory management system. The system that we were trying to use was not designed for a Fastener Distributor and we wasted hours of our time trying to make it work. We were never able to get any benefit out of it."
During this time they were operating on a completely manual system with a hand written index card for each item and Excel generated invoices. If a customer called and asked if they had stock on an item, they would have to run to the warehouse and check. Under the existing conditions, there was no easy way of tracking where the inventory was in their warehouse — it sometimes seemed like they were spending more time looking for items than picking them.
Searching For The Right System
They finally decided to cut their losses, and to research and select a more suitable system. After reviewing several systems, there was one that stood out. It was The Business Edge from Computer Insights, Inc.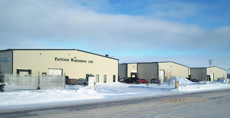 Garett Pugh had the primary responsibility for selecting and implementing the system. He said, "Everything was so simple. We contacted Denny Cowhey, President of Computer Insights, Inc., and he set up an online demonstration that showed us exactly what our company activities would like if we were using The Business Edge. It was amazing; it was as though he was looking over our shoulders. The Business Edge had the solution to each of our operational problems built into it.
"Aside from being very cost effective, it was also the simplest system to use and it was designed specifically for our type of business. In the fall of 2003, after a major warehouse reorganization and addition project, we went live with The Business Edge.
"The Business Edge is so flexible that we were able to design our warehouse and create a pick ticket that allowed our shippers to start in one corner of our warehouse and snake their way through finishing at the shipping door. In doing this we have eliminated wasted steps as well as endlessly searching for items. We save many hours every day and we do a better job for our customers."
Garett continued, "Since implementation of the system, we have virtually doubled our sales, and thanks to The Business Edge, we have done it without doubling staff."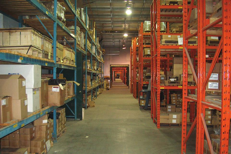 Vendor Managed Inventory
Fastener Warehouse offers their customers a complete Vendor Managed Inventory program where Fastener Warehouse takes responsibility for keeping the bins stocked and the inventory at the proper levels for their customers. Garett is very excited about the Bin Stocking system in The Business Edge. He stated, "This system has allowed us to become more integrated with our customers, which has increased their loyalty to us. The flexibility of the Bin Stocking system has allowed us to tailor different variations of the same concept to fit each customers' individual needs and wants. In our most recent and largest VMI project, we had one of the smoothest transitions our customer has experienced in any of its manufacturing facilities. The bin stocking system works so smoothly that we are able to have two turns per week on some items."
Fastener Warehouse has their branch warehouse and remote sales office online all day. They have complete access to any information that they need. They also use multiple entities within The Business Edge which allows them to run their sister company, BK Assembly, Ltd.
BK Assembly, Ltd. makes small assemblies out of numerous different parts and the Processing PO makes it very simple. They can now track not only the lot numbers of the complete assemblies, but for all of their components as well. As the two companies share employees and space, they only have to train their employees to use one system. This makes things much easier.
Garett summed it up, "To put it simply, The Business Edge has made day to day operations at Fastener Warehouse, Ltd. much more efficient and far less time consuming. This has allowed us to focus on growth instead of just keeping up."
This article appeared in Distributor's Link Magazine
For More Information
Bob Weimer, President
Fastener Warehouse, Ltd.
820 46th Street East
Saskatoon, Saskatchewan S7K 3V7, Canada
phone: 306-374-1199
fax: 306-374-1159
fw.gpugh@sasktel.net
Dennis R. Cowhey
Computer Insights, Inc.
108 South Third Street
Bloomingdale, IL 60108-2912
Phone: 800-539-1233
Fax: 630-893-4020
dcowhey@ci-inc.com
www.ci-inc.com