Release Notes – November 2013 – Order Type Change
New Order Types
The Business Edge now has the ability to have three different Order Types. Regular Orders, Work Orders and VMI (Vendor Managed Inventory) Orders. This gives us the ability to add new options for Contract Pricing and Sales Analysis. You could have separate Contract pricing for Regular Orders and VMI Orders, or only offer Contract pricing on VMI Orders.
Each Order Type supports all levels of Orders – Quote, Pending Order, Hold Order, Firm Order and RMA.
The new options are:
Quote
Pending Order
Hold Order
Firm Order
RMA


Work Order Quote
Pending Work Order
Hold Work Order
Work Order
Work Order RMA


VMI Quote
VMI Pending Order
VMI Hold Order
VMI Firm Order
VMI RMA
We have combined the two fields into one selection for the user.
When running reports that ask for order types, the types are split out: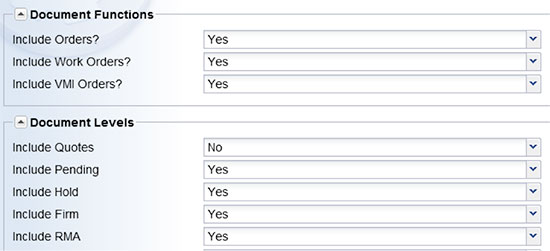 Please note that you have to answer yes to at least one question in each section to have any documents show up in the reports