Visible Rows in optional information grids allows you to set the number of rows to show. The grids now have a More/Less tab under them when appropriate. The number of visible rows is now user definable, the default is 9 for the maximum. If you expand it to everything it will remember and always show everything. An example is Lot Tracking Detail or Order Detail Lines that can be hundreds of lines. This feature can also be used to reduce the number of things shown. For example you might only want to see the last three recent customer notes instead of the last nine. The Business Edge shows a 10th row with "More Information…" in the first cell and you have to click the (+) button to drill in to see more information.

The Business Edge looks like this, notice the last row says, "More Information…"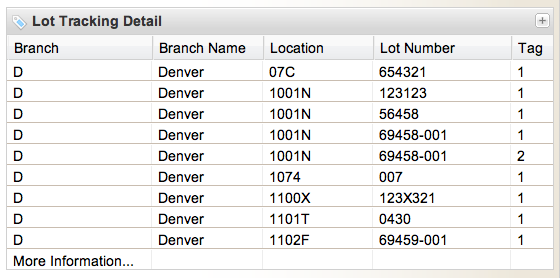 The system will now show a "More" tab instead of a row with "More Information…" The limit can be configured by the user with the settings gear and can be temporarily expanded to show everything by clicking on the "more" tab at the bottom of the grid. Click on the gear icon to get to the "Visible Rows" option. The + button still works the way it always has and drills into the information by using the entire tab space.

Click on "Visible Rows" to change the value, in this example I will change it from three to seven.
Click the "More" tab at the bottom to expand it to show everything. This will make it expand to show everything and the "More" tab will turn into a "Less" tab to use to collapse the grid back to your "Visible Rows" size.