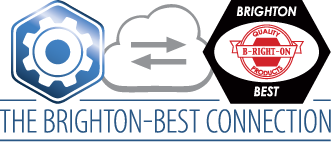 Real-Time Supply Chain Integration
Do you want your BBI Web discount without
having to go to the BBI web site?
If so, you need the Brighton-Best Connection!
IS THE BRIGHTON-BEST CONNECTION
THE RIGHT CHOICE FOR YOU?

Do you purchase products from Brighton-Best?
Would you like to have real time price and availability from the Brighton-Best website inside your internal system?
Would you like to order inside your system, not have to re-enter into their website?
Do you use the Brighton-Best to Drop Ship?



A 5-MINUTE VIDEO INTRODUCTION TO THE BRIGHTON-BEST CONNECTION
 
THE BRIGHTON-BEST CONNECTION: REAL-TIME
SUPPLY CHAIN INTEGRATION ONLY FROM
THE Business Edge

With the Brighton-Best Connection, BBI becomes the most convenient and profitable Vendor that you could choose.
Check availability and pricing right from The Business Edge inquiry screens (the same information that is on the web).
Enter Purchase Orders into The Business Edge with up to the minute pricing. (including your WEB DISCOUNT)
Place Purchase Orders on the Brighton-Best's server with the touch of a button inside The Business Edge
Brighton-Best Part Numbers added to your existing Inventory numbers as part of the installation.
Easily add Brighton-Best Product Numbers to new products entered into The Business Edge (Brighton-Best's complete Inventory is included).
Brighton-Best PO confirmations are automatically posted to The Business Edge
The entire process is streamlined.
If you have Brighton-Best Drop Ship – The Business Edge can automatically bill your customers based upon Invoice receipt from Brighton-Best.
Many individual steps are completely automated.
You make more money in less time with less effort and with no errors.