| | |
| --- | --- |
| | Software Overview |
As a Fastener Company, are you being forced to do more, in less time, with greater accuracy, with less people? If so, you have come to the right place. The Business Edge is unlike other Distribution and Manufacturing software. Here are just a few of the features :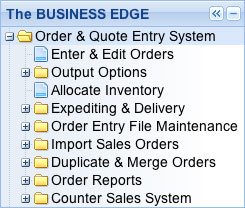 Order & Quote Entry System
Customer Order Entry
Checks Credit & Inventory Status
Multilevel Pricing & Contract Pricing
Price Override per Line Item
Automatically Produces Back Orders
Calculates Order Profit & Commissions
Integrated Lot & Location Control
Multiple Units of Measure per Product
Order Booking Reports
Customer & Product Back Order Reports
Blanket Order Scheduling System
Automatically Generate PO's from Orders
Automatically Convert Quotes to Orders
Integrates Quotations, RMA's & Orders
Enter & Edit Quotes
Print, Fax, E-mail or View Quotes
Change Quotes to Orders
Quotes Reports & Analysis
Customer, Product & Quote Inquiries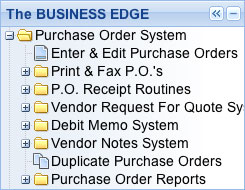 Purchase Order System
Produces Purchase Orders
Automatic Replenishment System creates, RFQs, POs, Processing POs & Manufacturing Work Orders
Purchase Order Tracking Status Reports
Purchase Order Back Order Generation
PO Receipts – Invoice Matching
PO Receipts – Sales Order Matching
PO Receipts – Packing Slip Matching
Vendor / Product History Reports
Vendor Request for Quote
Vendor & Purchase Order Inquiries
Vendor Notes System
Processing PO / Secondary Processing System
Accounts Receivable System
Invoice Data Flows Through Order Entry
Direct Invoice Entry
Checks Credit & Inventory Status
Credit Memo Processing
Sales Journals – Multiple Sequences
Invoice Printing – One, In Process, Alpha…
Invoice Faxing – One, In Process, Alpha…
Invoice E-mailing – One, In Process, Alpha…
Cash Receipts – Enter & Edit
Cash Receipts – Reports & Analysis
Enter & Edit Customers
Enter & Edit Salespersons
Enter & Edit Customer Payment Terms
Enter & Edit Customer Classifications
Enter & Edit Tax Authorities
Customer Lists, Labels, Inquiries & Notes
Customer Statements – Print, Fax, E-mail, Inquiry…
Aged Analysis Reports & Analysis
Sales Tax Reporting – US & Canadian
Customer Inquiries & Notes
Salesperson Inquiries & Notes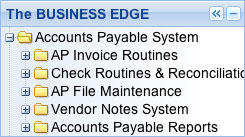 Accounts Payable System
Enter & Edit Accounts Payable Invoices
Accounts Payable Check Processing
Purchase Order Receipts – Invoice Matching
Multiple Account Posting
Prior Period Posting
Partial Payments on Invoice Posting
Aged Payables Reports & Analysis
Cash Requirements Reporting
Check Reconciliation
Manual Check Entry
Enter & Edit Vendors
Enter & Edit Payment Terms
Vendor Reports, Lists, Inquiries & Notes
Custom Tailored Accounts Payable Checks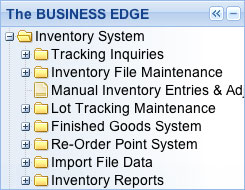 Inventory System
Enter, Edit & List Inventory Products
Product Classifications
Re-Order Point & Stocking Criteria Analysis
Up to 39 Character Part Numbers
117 Character Product Descriptions
Multiple Units of Measure per Product
Variable Decimals per UOM: Quantity, Cost & Price
Tracking by Product: Locations, Lot Number & Tag Number
Multiple Locations & Lot Number per Product
Import Vendor Catalog Information
Critical Inventory Reports & Analysis
Physical Inventory Systems
Fully Integrated into All Other Systems
Product Master List Available
Bill of Material – Multilevel Processing
Secondary Processing – Lot Number & Tag Number Traceable
Product Inquiries, Reports & Labels
Complete Cardex System Shows All Details
Stocking Labels, Bar Code & Images Available
Bin Labels, Bar Code & Images Available
Customer Package Labels, Bar Code & Images Available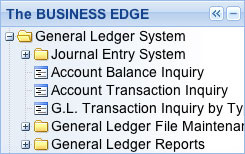 General Ledger System
Completely Integrated into All Other Systems
Automatically Updated on a Real Time Basis
Journal Entry System
Multiple Period Processing
Multiple Financial Statement Processing
Multiple Branch Processing
Multiple Company Processing
Multiple Currency System
Division / Cost Center Reporting
Comparative Income Statements
Comparative Balance Sheets
Income Statement Spreadsheet
Summary & Detailed Inquires & Reports
Export Financial Information to Excel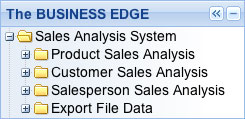 Sales Analysis System
All Reports Offer Multiple Period Reporting
All Sales Analysis Data Can be Exported to Excel
Product Sales Analysis by Customer
Product Sales Analysis by Salesperson
Product Sales Analysis by Ranking
Customer Sales Analysis by Product
Customer Sales Analysis by Salesperson
Customer Sales Analysis by Ranking
Salesperson Sales Analysis by Product
Salesperson Sales Analysis by Salesperson
Salesperson Sales Analysis by Ranking

Begin Tracking with Bar Code Upon Receipt
Real Time Tracking of All Inventory
Tracks Part Number, Location, Lot Number, Quantity…
Tracks All Receipts, Movements & Adjustments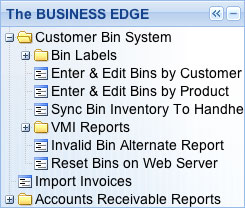 Improve Customer Loyalty
Take Orders with Palm Pilots
Take Orders with Aceeca Rugged Digital Assistants
Integrated Bar Code Scanners
Automatic Order Entry System
Maintain Customer Inventory Levels
Read how Industrial Fasteners & Supply is using this feature.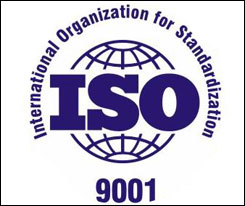 ISO 9001
Corrective & Preventive Action System
Daily Reminders of Past Due Corrective & Preventive Actions
Control and Calibration Records of Measuring Devices
Daily Reminders of Past Due Calibrations
Many Reports in System Help Analyze Data
Export Data into Excel & for Custom Reports
Approved Vendor List
Product Inspections
Maintenance Logs
Stores Critical Product Specifications, Inbound & Outbound Communications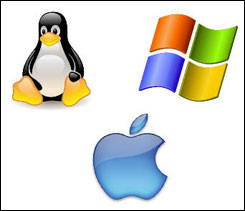 Windows 7, *Apple or *Linux Workstations
All Features Available with Windows XP, Windows 7, Apple or Linux Work Stations
One Click Export to Microsoft Excel or OpenOffice.org Calc Throughout Entire System
User Defined Exports of All Data to Microsoft Excel or OpenOffice.org Calc
One Click Web Shipping Tracking for UPS, FedEx & Other Shippers
Hyperlinks to Customer, Vendor, Salespersons' E-mail and Web Sites
Integrated Inbound Fax System
Integrated Product Drawing System
Integrated Certificate of Analysis System
Integrated Scanned Document System *Only available on Windows OS Workstations