New Report – Documents to be Picked – This new report is similar to "Print Picking Tickets Not Printed" and the "Pick List Report". This report would be used to help decide which documents should be printed to be processed. This can include Orders, PPO's and Transfers. After selecting / deselecting the documents, pick tickets will be automatically printed.

The options for the report are shown on the screen below: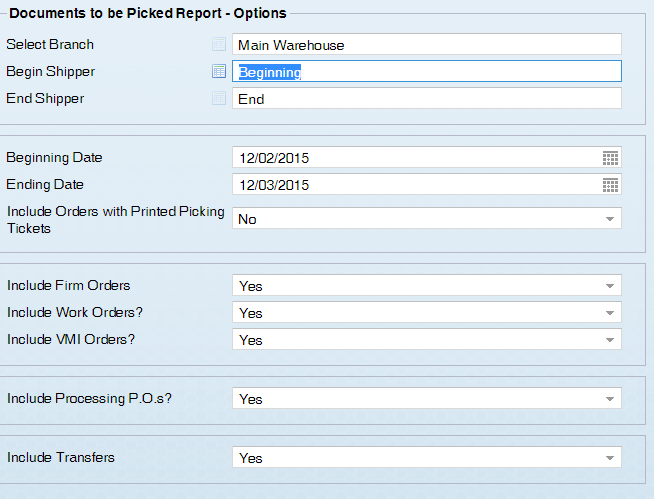 The shipper range is so the user can run the report for a specific shipper (like UPS) so you can "batch" the orders going through the warehouse. Will Call and Customer Waiting should go out first, and then truck shipments, and then UPS shipments. Leaving the default as Beginning and End simply includes all orders.
The Beginning and Ending dates are the Date required based on the document dates. For PPOs and Transfers, they are the date the PPO and Transfer are due.
If you answer Yes to Include Orders with Printed Picking Tickets, then the system will include those orders in the list. Typically if you have already printed the Pick Ticket you would not need to re-print it.
The sorting program will go through all the orders, PPOs and Transfers that meet the criteria and put them in a grid. Any document that can be fully picked will automatically be added to the list of picking tickets to be printed. In the grid, the user can add/remove individual documents to be printed, clear all documents, print a specific picking ticket, and drill into the document for further information.
When they exit the grid, if there are documents marked to be printed, they will be prompted to print the picking tickets.